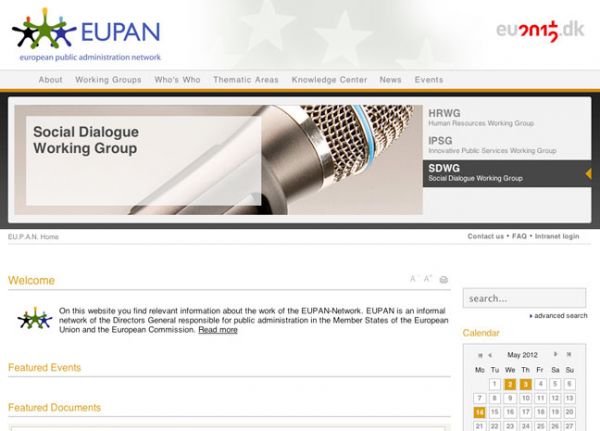 Apogee Information Systems Int. following its' success in the call for tender that was noticed, joined the needs of the European Public Administration Network – EUPAN and implemented the redesign and development of the website of EUPAN.
EUPAN is an informal network of Directors who are responsible for the public administrations in the Member States of the EU and the European Commission as well.  Having as a mission the improvement of performance, competitiveness and quality of the European Public administrations, new tools and methods are being developed based upon the exchange of views, experiences and best practices among the EU Member States, the observer countries and the European Commission. EUPAN places the Citizen in the center of the public management through his involvement with different areas, setting as target to support the efficiency and orientation of the European public services towards the Customer. In the EUPAN website everyone can be informed for the Working Groups and their field of activities, the organizations of the public sector that are involved with the EUPAN as well as the representatives of the each Member state of the EU. Each visitor can find all the Thematic Areas that EUPAN is occupied with, so as to develop a global approach upon all the European public administrations along with a variety or articles, events, policy papers, projects, reports, studies, surveys e.g.
The designers and developers of Apogee redesigned and developed a modern and functional website based on studies for the efficient presentation of the characteristics of EUPAN throughout the world. The new Content Management System Essence allows easy maintenance, renewal and management of every site or portal, as well as it helps each visitor to explore the WebPages of EUPAN and find all kind of information quickly and effectively.