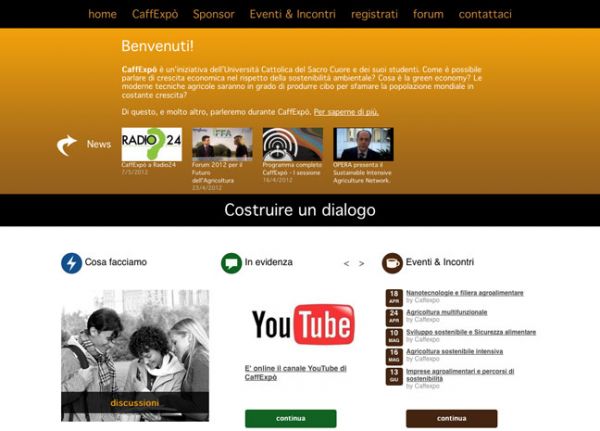 Apogee Information Systems, successfully developed and launched the web site for the Caffexpo in April 2012.
Apogee developed the web site for CaffExpo, an initiative born from the collaboration between the University Cattolica del Sacro Cuore, research centers and students in order to cover the Expo 2015 topic.
CaffExpo, was named after the meanings of the words that compose it. It is the spiritual center of OPERA and a result of the cooperation between the University's students and of the EXPOLAB center. Its' aim is a series of meetings and discussions on the Expo 2015 topic " The nutrition of the planet, energy for life".  The main target, is for the Coffee experience with friends, in a warm and cozy environment, to be combined with the opportunity for developing issues that concern our era, for exchanging ideas and beliefs among students and professors of the University in the bar of the Università Cattolica which is based in Piacenza.
Apogee Information Systems, using the powerful Content Management System Apogee Essence developed the  web site for CaffExpo. The CMS Apogee Essence is designed in such a way that it is functional for all kind of users, allowing easy maintenance, renewal and management of any web site or portal.